Essay by Dana Kopel:
In "Let Me Blow Ya Mind," friends and artists
Alyse Ronayne
and
Raque Ford
explore some of the things their work has in common: an interest in the space between painting and sculpture, a consideration of how artworks occupy space and how space impacts artworks, and the combination of playful figuration and conceptually driven abstraction. Both artists have also tended to focus more on sculpture in their respective practices, and yet both have chosen to show mostly paintings—or, perhaps, paint-based works, to avoid pinning them down too firmly—in their exhibition together. Why painting? What specifically can paint do?
Painting makes symbols, for one thing. More closely tied to representation, painting generally seems intended to communicate a specific message, to convey meaning. Even now, centuries removed from the height of history painting—and many decades after Robert Ryman and others seemed to surface the critical endpoint of painting as producer of meaning—we tend to expect paintings to tell us something.
Alyse tells me that while she has frequently used paint in her works, she had always approached it as material, not medium, focusing on its decorative or spatial properties rather than its capacity for making meaning. Her paintings in "Let Me Blow Ya Mind" internalize that logic, using symbols and characters to investigate the spatial properties of the space of display, in this case the canvas. The "collection paintings," as Alyse calls them, assemble simple forms and images against a white background: sinuous red and black doodles, a blue Greek key design lifted from a Greek coffee cup, a shape resembling an italicized letter B—in fact a symbol used by a cowgirl for branding her herd. The word "yes" is rendered in decorative red script at the bottom of one, and reappears on its own in a small painting installed above a desk. Like her sculptures and installations, these paintings point away from themselves, toward a variety of references and possible meanings.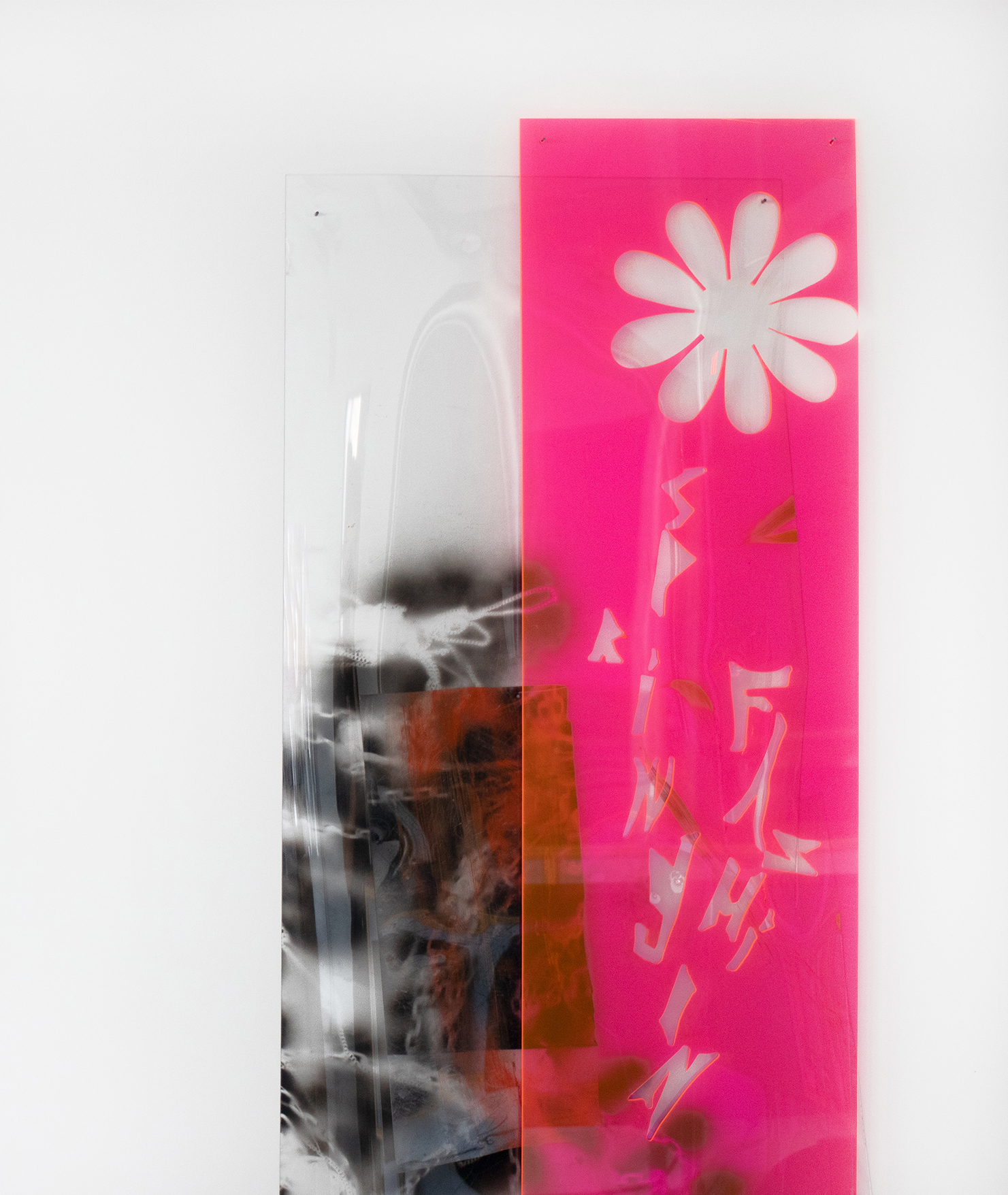 Both Alyse's and Raque's works in the show are in part, I think, about the process of making meaning. In Raque's practice, narrative is approached askance, so that what might seem intimately confessional instead reads as oddly distanced and allegorical, like a fable. Many of these texts are carved into plexiglass in the artist's handwriting, while in other cases, she paints more reduced bits of language onto sheets of polypropylene—as in DaisyME (2017), in which colorful paintings (one of which features the repeated word "me") and a black plexi daisy dangle from ceiling-mounted black chains. Raque says that whenshe's only working with the plexi, she starts to miss the painterly aspects of her practice, which manifest in "Let Me Blow Ya Mind." A wall-mounted work of hers, for instance, comprises overlapping rectangular mylar panels: One, hot pink, features a cut-out flower and letters, resembling recent plexi works that make use of flower cut-outs and bits of narrative. Beneath it, another is clear with bursts and splotches of black paint, the negative space of which reveals the outlines of ropes and chains, layering poppy pink against something more sinister.

The show draws out a conversation between the two artists' work, one that's as much about friendship as about formal congruences. (Its title is borrowed from the 2001 Eve and Gwen Stefani hit, a reference to a shared inside joke). Steel, often formed into chains in Raque's work of the past several years, appear in the negative space of some of Raque's paintings in the show, and now twisted steel rods hover above an abstract painting in one of Alyse's works, echoing the painting's serpentine black brushstrokes. More broadly, both artists evince an interest in symbols, in their capacity to mean everything and nothing at once: a cartoonish blue cherries charm dangles from the ceiling in a plexi-and-metal-cord mobile by Raque; in Alyse's paintings, there are the cowgirl branding symbols, the italicized B and others like interlocking hearts and a glyph that looks like the result of a J, an H, and an L merging together.
There's a lot of weight put on the process of "thinking through" in much contemporary art discourse, but I like these works because they think through important concepts—language, making meaning, inhabiting space—through both coded and recognizable references, in clever and familiar and elegant ways. And I feel like they allow me to think with them. Not to be corny (I can't help being corny), but if you follow Eve and Gwen's (and Raque and Alyse's) command in the title, and let the works in the show blow ya mind, you might see what I mean.
About the Artists:
Alyse Ronayne
(b. 1986) lives and works in Brooklyn, NY. She received a BFA in printmaking from the Maryland Institute College of Art in 2008 and an MFA in painting from the Milton Avery School of the Arts at Bard College in 2015.
Raque Ford
(b. 1986, Columbia, MD) is a Brooklyn-based artist. She received a BFA in painting from Pratt Institute and received her MFA in Visual Arts from Rutgers Mason Gross School of the Arts. She is the recipient of the 2017 Louis Comfort Tiffany Biennial Award, and was awarded the Van Lier residency at the International Studio and Curatorial Program (Brooklyn, NY).