Cummins Indy Distribution Headquarters
Indianapolis, IN
175,000 square feet
2017
Type:
Offices
The thin profile of this new headquarters for Cummins' Global Distribution Business unit preserves open space for a new urban park and reinforces the "street wall" of a major downtown thoroughfare. A carefully calibrated façade, with integrated fins and shades, minimizes heat gain and glare while maximizing transparency and urban views.
A series of double height social hubs—each with a signature staircase—create spaces for collaborative work and chance encounters. The narrow floor plates allow the interior to be entirely day-lit. The sculpted tower, with its inflections and projections, adds a striking landmark to the city.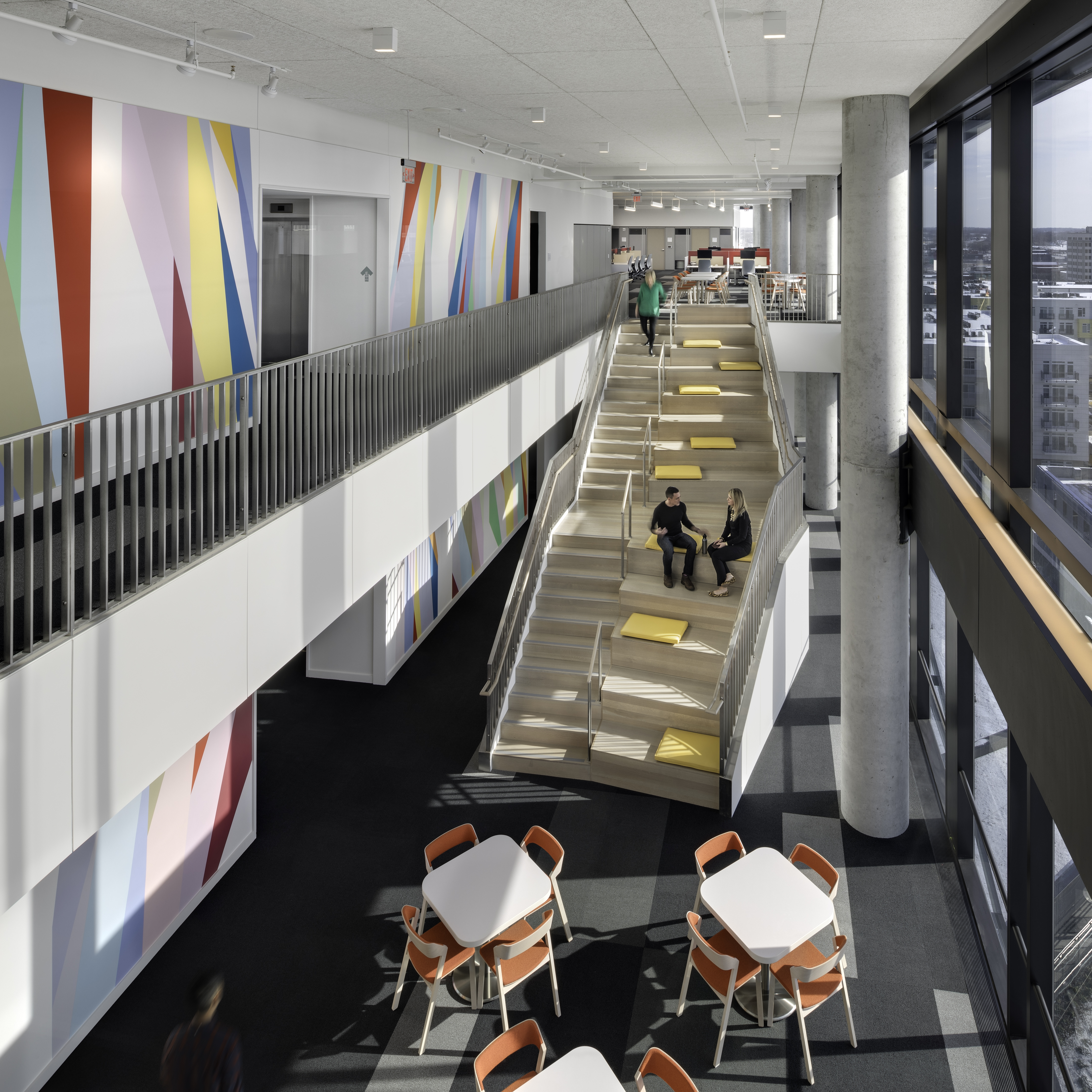 The office spaces are tailored to encourage all kinds of working – collaborative, focused, social, active, contemplative, informal. We have created a variety of workspaces including private meeting rooms, team rooms, open collaborative areas, focus booths and informal gathering spaces like the double height "social hubs" connecting the floors. These social hubs offer expansive views of downtown and the new urban park.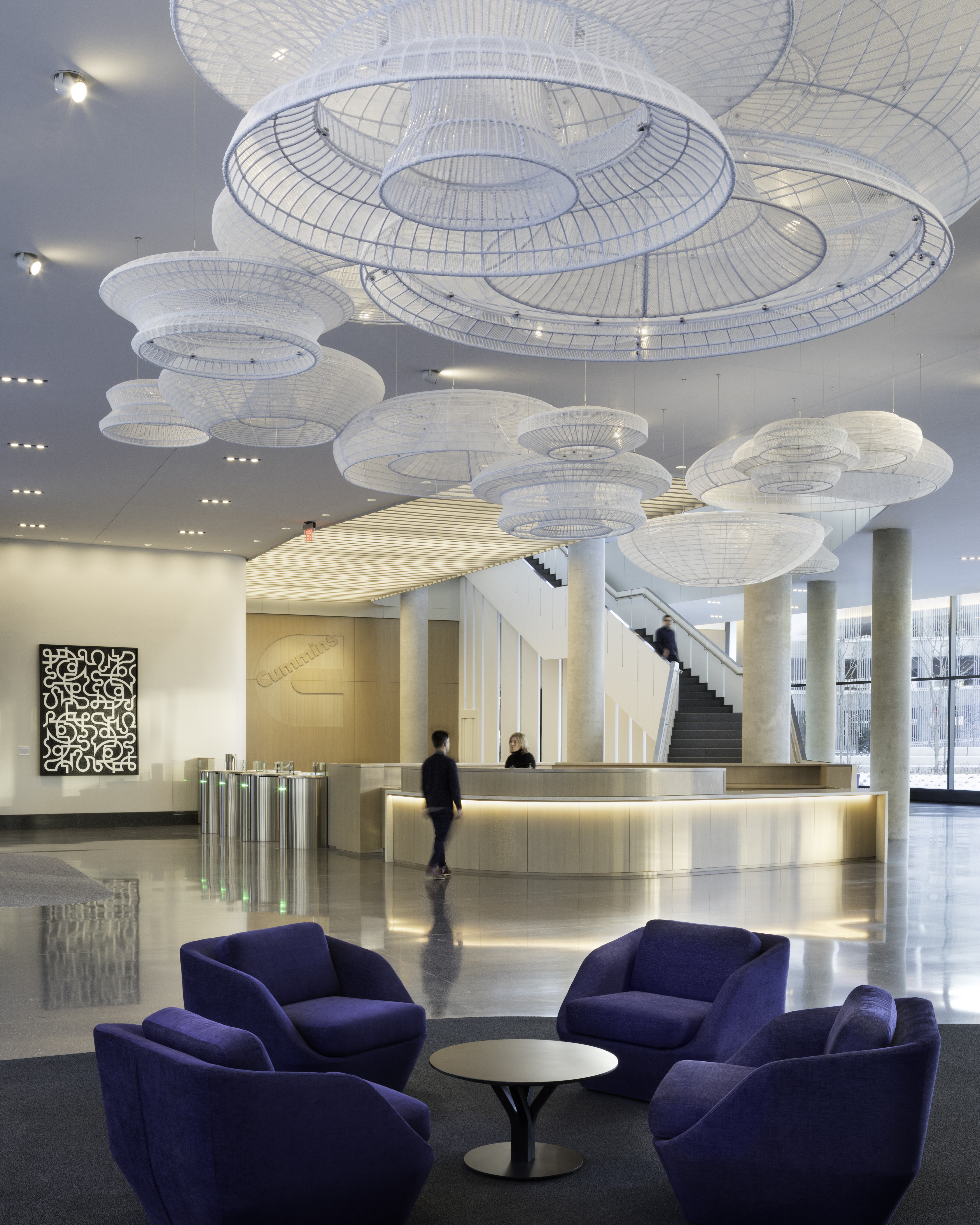 We collaborated with Cummins in an iterative process that looked at the design of the project at all scales and from many perspectives: accessibility and inclusiveness, visual and thermal comfort, low-energy consumption, life-cycle analysis, water retention and re-use, educational opportunities, maintenance and safety, and opportunities for future change.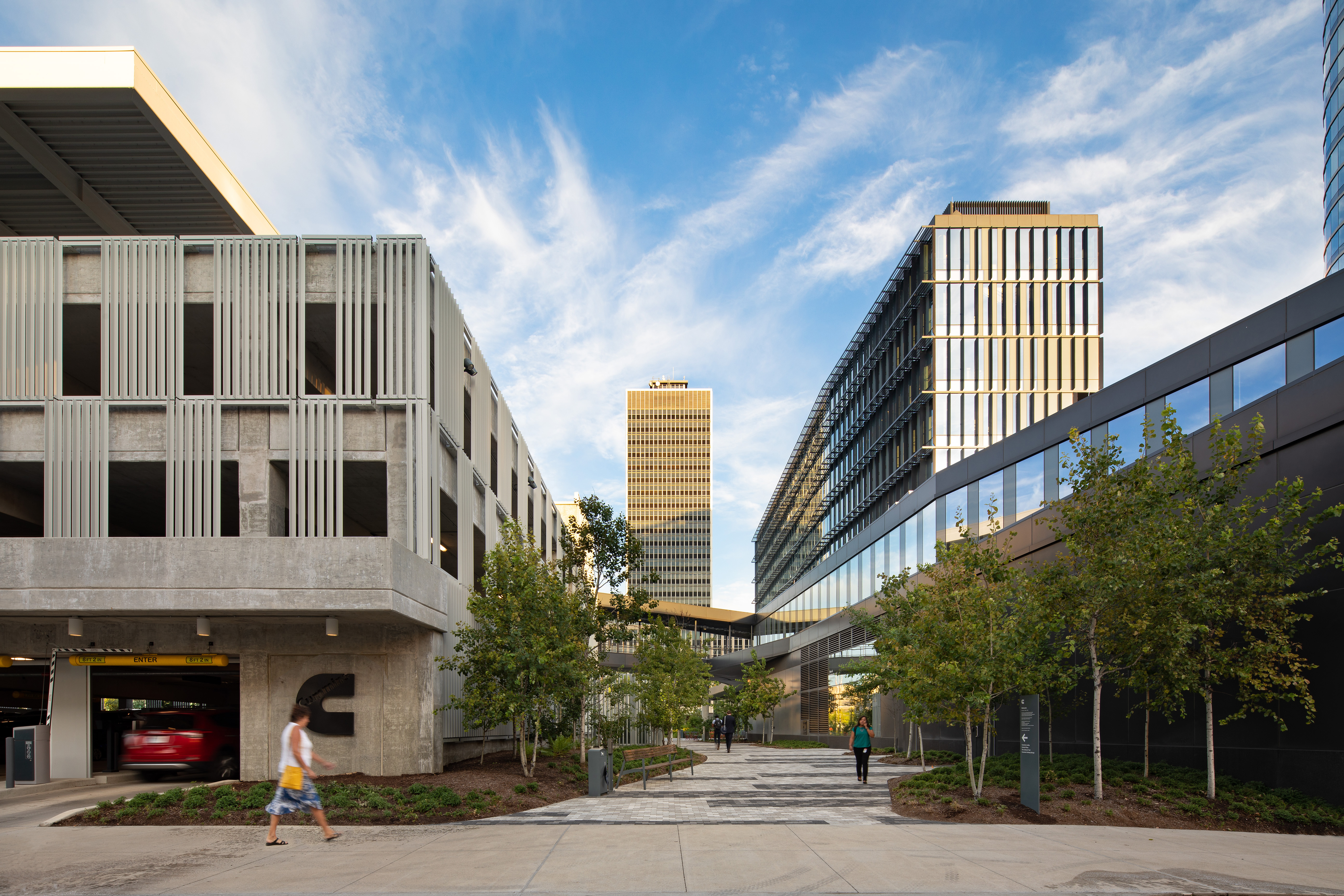 Collaborators
Deborah Berke Partners
Design Architect, Interior Designer
Ratio Architects
Architect of Record
Land Collective
Landscape Architect
Robert Silman Associates
Design Structural Engineer
Fink Roberts & Petrie, Inc.
Structural Engineer
Syska Hennessy Group, Inc.
Design MEP Engineer
Circle Design Group, Inc.
MEP Engineer
Atelier 10
Sustainability Consultant
Front, Inc.
Facade Consultant
One Lux Studio
Lighting Designer
F.A. Wilhelm Construction Co., Inc
Construction Manager
Recognition
Architectural Record
May 2017
Honor Award
AIA Indiana
Merit Award
AIA New York
American Architecture Award
The Chicago Athenaeum
Museum of Architecture and Design

Monumental Award
Indy Chamber
Design Award of Excellence
SARA National
Merit Award
AIA New York State
Design Award of Excellence
SARA New York Council
Honorable Mention - Office & Retail
2017 Best of Design Awards