Located in a new building in the core of Washington, D.C., this apartment is designed as a serene getaway that can also accommodate guests for entertaining. The furnishings are arranged so the perimeter glass walls are unobstructed—wraparound views on three sides animate the space. In the living room the soft seating is upholstered with richly textured fabrics in pale shades. Contrasting hard materials—metals, woods, and leathers—are used as accents. Diaphanous curtains provide privacy while allowing light through. Smoked glass lanterns provide a low, warm glow that compliments architectural lighting tucked into the perimeter ceiling cove. A secondary seating area is oriented toward the sweeping urban vistas. The grand piano anchors the space.
A custom bronze and glass sliding door separates the kitchen from the dining area. The dining chairs have folded leather backs, which give them dimension and a distinct profile. Non-representational art adds subtle color and variety to the rooms. An intimate den/office has textured wall coverings, a low-soft bench, and custom bronze metal shelving. The mix of materials gives the small space visual and tactile interest.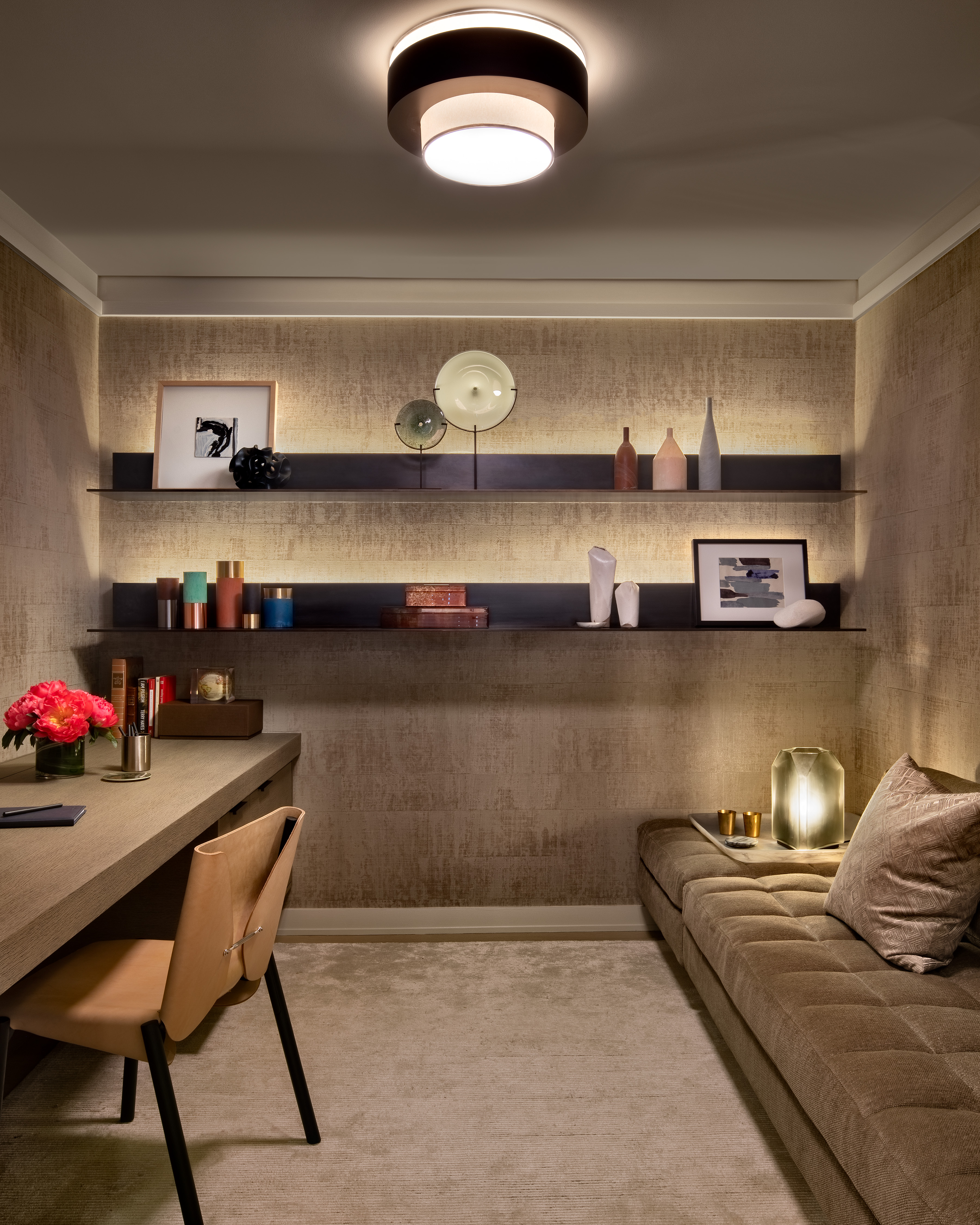 In the master bedroom, we designed a dressing table with discreet storage to add a sculptural element to the room. A custom leather headboard and millwork create a serene backdrop for the bed. The guestroom, with simple fabric headboards, is equally restful.

In a city known for traditional and formal tastes, this contemporary residence balances comfort with sophistication to enrich a 21st century lifestyle in the capital.
Collaborators

Deborah Berke Partners
Interior Architect, Interior Design

Pierce Lighting Studio
Lighting Designer
See more of our work designing artfully balanced and poetically composed
houses
,
apartments
, and
interiors
for our private residential clients.